Hello - I'm Inducktion Duck - welcome to UCL!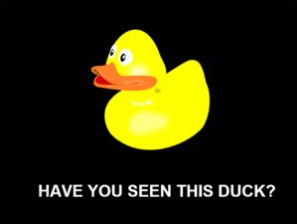 Take the campus tour!

This self-guided tour is about the general wellbeing of all new students at UCL - comfort, convenience and support.
You'll discover loads of helpful information for students at UCL, including water fountains, food, internet access, showers, printing, computer rooms, study spaces, walking & cycling, recreation, emotional support, joining up the different parts of UCL - and many other delights.

How?

Look for the yellow duck posters at 18 locations across the campus. Scan their unique codes with a barcode scanner on your phone or tablet. This will load a web page containing a useful entry about that location, a cryptic clue to the next destination, and a link to a map.
Need help? See our scanning guidance and visit our Questions & Answers.
Where do you start?
A good place is the Student Centre near UCL's front lodge on Gower Street.
Look for the Inducktion Duck poster to scan, and then follow the clues from there.
Keep in touch on Twitter

Follow me on Twitter - @inDUCKtion.
Get creative with Inducktion Daily Photo Challenges

@inDUCKtion will also be running a daily Photo Challenge on Twitter. We're collecting them here. The most creative ones will be displayed at the end of the academic year. If you would like to take part, get yourself a small duck. You could go for a bathtime toy or make a duck yourself. Most of all stay tuned to the daily photo quack on Twitter!

Any questions?

Visit our Questions & Answers.
Still got questions? Tweet @inDUCKtion or email Mira Vogel and Janina Dewitz via ele@ucl.ac.uk.
Details
About the Inducktion Tour